One of the features on the 'new and improved' (ahem.) Savannah Street Style blog will be called "So You're In Savannah.." which will focus on certain areas/ideas/things to do in the city. People often come to Savannah and think they've covered it all when in reality, they might have passed a lot of hidden gems that could wind up being some of their favorite places ever. So if you're one who appreciates 'off the beaten path' finds, you will probably be into these suggestions. Or not! But hey, let's be friends and hear each other out!
Alright. So let's get real. You've found yourself in Savannah and you're looking to go out for a drink. This town may look quaint and adorable (and it is!) but this town likes a good drink. Who doesn't? You've come to the right place if you want a lot (but not too many) of alcoholic options. And by alcoholic options, i mean places to go to get your drink on and not prospective mates that may or not be drunk Prince and Princess Charmings. I'll leave that one to a Savannah dating blog.
Check out these fantastic & fun Savannah watering holes.
37 Whitaker Street
A great bar that you can continuously go to and never get sick of it is very hard to find. Hangfire is absolutely one of those places. You can tell because when you go there every Thursday, or every Friday, or Saturday night you look around and see that everyone else seems to have the same idea. Familiar faces all around. It's a bar that seems to have something cool going on every time you step foot in there. If they aren't having a hilariously fun karaoke night, there is usually a local (good) band playing or a DJ spinning great music that makes everyone get up and dance. Don't fret though, my Savannah friend. The music selection is always a mix of everything that your ears want to hear. And if there is no DJ, just play songs on the jukebox. Or get drunk with their amazing drinks with pretty decent pricing (no minimum on cards which also rules) You better grab a Scorpian Tea, for just $5 served in a mason jar. What's in it? Don't even ask me. Just drink it and enjoy. Write some vulgar stuff on the chalkboard walls in the bathroom while you're at it. Everyone does it. No one will know it's you, unless you want them to know! Fun dancing, great drinks, wonderful music and anonymity at it's finest. Get there.
127 West Congress Street
The Jinx will always have a special place in my heart since it was the first Savannah bar I had ever stepped foot in. It definitely gave me a very epic "Welcome to Savannah" night. While it kind of has the feel of a 'punk bar', it's filled with a mix of different characters (like most places in Savannah) but most of the characters in there are ones you want to be surrounded by. It's a large space with a huge stage to dance on or watch bands perform. The entire left side of the bar is lined with cozy booths to sit in with old school video games & a perfect view of everyone in the place (if people watching is your thing). Get up and dance, or end your night there and make friends with a few strangers. Dance parties on Thursday nights are always a good time, with $1 well drinks for girls and free admission before midnight. There's always something fun going on at the Jinx and it's one of the most special places in Savannah to go and make memories...or forget them the next morning. Either one, just go and have fun. You will.
Crystal Beer Parlor
301 West Jones Street
Crystal Beer Parlor is definitely more of a cozy, low key Savannah bar experience paired with some of the best comfort food in the city. Closing at 11pm on the weekends, it's not a place to have a drunken all-nighter (which we don't condone on this blog anyway!..... or something) but it's an experience you need to have. Located in the quaint historical district, surrounded by homes instead of other restaurants/stores, it feels like the perfect neighborhood pub. With the best burger in town (Yeah I said it!), and a great selection of classic and delicious beer, Crystal Beer Parlor is the perfect place to begin your night, or just to call it a night.
Pinkie Masters
318 Drayton Street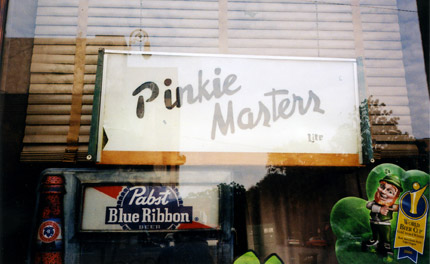 One of the best divey bars in Savannah, if not the best. It's small, 'no frills', dark and smokey with a collection of local characters in there at all times. Stick with a PBR, have a seat at the bar or in one of the beat up but comfortable booths and strike up conversation, people watch and select songs on the jukebox. Pinkie's is one of those places that whenever a big name person comes to town, they somehow always wind up there. Drew Barrymore & Justin Long love it, or so I've heard from people who have spotted them there. Best part of any of the bars in Savannah is that you can take a to-go cup and wander around the streets at night (with caution of course). Pinkie's is my favorite bar to get a drink and hang out but then wander around it's surrounding area with a to-go cup and see what you stumble upon.
The Bohemian Hotel Rooftop Bar
102 Bay Street
Whenever family comes to town or when I give city suggestions, The Bohemian Hotel is always a place that comes to mind. It's a new upscale boutique hotel located near the Savannah River that is just as delicious as it is aesthetically pleasing. Enjoy a fantastic meal at the hotel's restaurant "Rocks on the River" downstairs, and then wander on upstairs to the roof for a true Savannah experience. Drinks are a bit expensive and the crowd definitely isn't the same as the bars listed above, but grab friends or a date and head up there to drool over the dreamy beautiful view. The atmosphere makes you feel like you're miles away from a sleepy historical Southern town, but has enough hints of it to make you still feel warmhearted.

That's all for now but there are PLENTY more! So keep your eyes open & stay tuned.